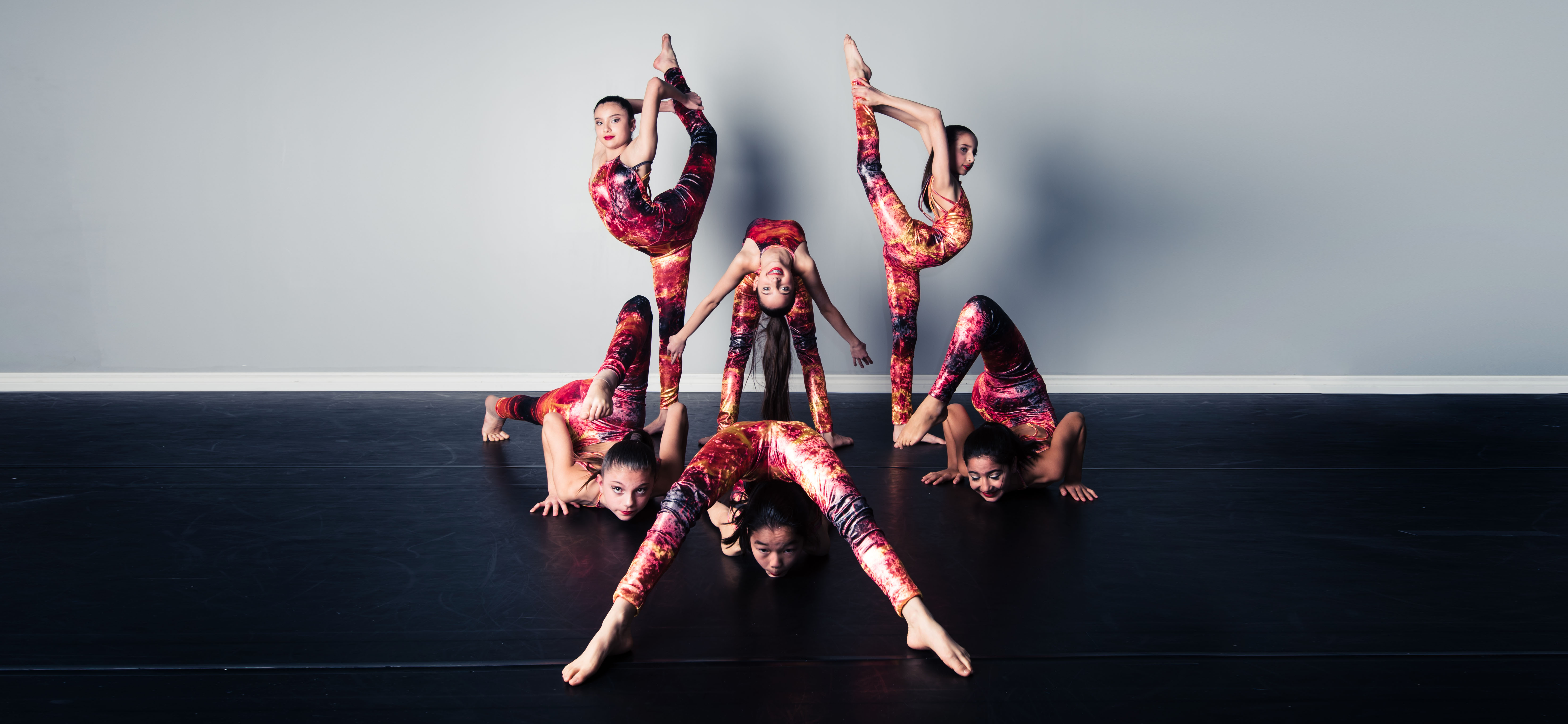 A list of our acro and dance offerings!
Classes for boys and girls ages 2.5yrs and up.  If you are unsure which class is best suited for you child call and we can arrange an assessment so that we can suggest the most suitable class. Our classes are based on skill, age and interest of your son or daughter .   A brief description of our classes are as follows:
Acro Dance: This class's primary focus is acrobatics however it is also combined with dance technique. Acro skills such as cartwheels, walkovers, headstands, double tricks and more will be taught in this class. Every child can progress at there own speed.  The teacher will also explore many varieties of dance such as lyrical, jazz, and hip hop as this group wants to learn it all.  The class is divided with a proper cardio warm-up ,stretching, conditioning, dance technique, acro skills, and choreography. Our acro teachers are certified and or trained through Ontario Gymnastics Federation, and therefore our staff teaches proper and safe technique and have great spotting techniques. They have also attended recognized spotting workshops for dancers. Boys and Girls Ages 4-18 yrs
Musical Theatre: This is for the child who loves to be on stage and perform.  By the end of this class we hope your child gets the experience of participating in a "Broadway style number" which also has the acro component! This class will include acting and dance games to encourage different emotions and expressions, acro basics and dance technique as well as choreography. This is a competitive class only and boys and girls 7 and up are welcome to audition
Jazz: This class is high energy and for the child who loves to dance.  Basic acro skills are used to increase flexibility and add strength however the focus is Jazz technique. This class will begin with a cardio dance warm-up, proper stretching and dance conditioning, jazz technique such as kicks, jumps and turns as well as choreography. Girls and boys age 4-18 yrs.
Circus Arts: A class which was created by Body Lines as a way to add excitement and different "acts" to your child's resume.  This class will teach you different acro tricks with the use of props, hoops, balls and more in order to really challenge the students and it will create a more circus feel.  This class is also great for increasing flexibility and strength and in a fun way. There will also be instruction in jazz technique, to keep your child on there toes. Boys and girls welcome ages 6-18 yrs. (Note: acro and/or gymnastic experience required).
Hip Hop: Looking for a upbeat trend setting class that is action packed and a great workout? This class includes a funky cardio warm up, along with street style technique and choreography. The children will be also taught some acrobatic skills which will not only build strength and flexibility but also add the cool tricks to the hip hop routine. Boys and girls ages 5yrs-18yrs.
Dancing Tots: This class is for ages 2.5-5yrs old and it is a excellent introductory class for your son or daughter. This class combines the basics of ballet, jazz, acro and hip hop using fun games, circuits and a variety of age appropriate music. Acro skills such as tables, teddy bear stands, front rolls and bridges will be introduced as well as skipping, galloping, hopping and bopping! This class will also help to develop strength, flexibility and co-ordination while instilling a love of movement in every child.
Ballet: We have some of the best teachers for this discipline at Body Lines. Our teachers are experienced and have danced in a professional ballet company. Body Lines follows the Cecchetti method but also has training in R.A.D.. Ballet technique is such an important part of dance training as it is the foundation to all dance styles, acro being no exception. Our ballet classes are very creative and fun while teaching your child true ballet technique.
Parent and Tot : This class is targeted for ages 18 months-2.5yrs. This class will introduce a variety of songs, games, beginner dance steps and more. The children will also love to explore our age appropriate gymnastic equipment. This is also a great way for the moms and dads to get out of the house and interact with other adults while keeping it toddler friendly!
Here are a few more reasons to try Body Lines!
Body Lines offers a variety of dance and fitness classes and we are open 6 days a week. We offer:
Qualified, passionate and experienced teachers
Personalized attention to all students.
3 spacious studios set in a clean, inviting and friendly environment
Great student to teacher ratios
A variety of gymnastic equipment for all ages.